Hello! We are Kelly and Sandra and this year we are responsible for team entries and subscriptions. Here you can find some frequently asked questions about the tour.
If you can't find an answer to your question below, please don't hesitate to contact us at info@paastoernooi.nl. 
We hope to see you at Easter!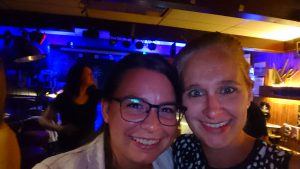 FAQ
When is this year's Easter tournament?
In 2023 the tournament will take place on Friday 7th, Saturday 8th  Sunday 9th of April.
What is the location of the tournament?
The tournament is held on the pitches of Mixed Hockeyclub Heerhugowaard. This is a town which is less then an hour away from Amsterdam and Schiphol Airport. It can be reached easily by car or via public transport.
What are the games like?
We play games of 20 minutes, 8 vs 8 and without a goal keeper. They are played on sand-based astroturf pitches (half a pitch).
Is it possible to sleep at the club and where can we take a shower?
Yes we have the possibility of camping on site (bring your own tents). You can use the changing rooms for showering etc. If you prefer to stay in a hotel nearby this is also possible (let us know and we'll help you).
We're coming by train. How do we get from the train to the club?
If you take the train to Heerhugowaard and let us know what time you'll arrive, we can arrange for you to be picked up.
I've subscribed my team and got an email about a deposit.
This is correct. As soon as we receive your subscription you will receive an email from us with a payment request. Please pay this partial amount (or the full amount of your team as you prefer) within 2 weeks to complete your subscription.
What is different from last year?
This year the lunch is not included in the registration fee anymore, as we want to offer the participants a better lunch.
Second, and this is not any different from the past years but ruled out for this year: you are not allowed to bring your own booze,  and we urge you to please follow this rule. The tournament will supply a variety of alcoholic drinks which you can consume.
I don't have a hockeystick. Is there a stick available at the tournament?
Yes you can borrow a hockeystick at the tournament. You have to pay 25 euro deposit which wille be returned af the tournament when you bring the stick back.